September 01 2016 10:52 AM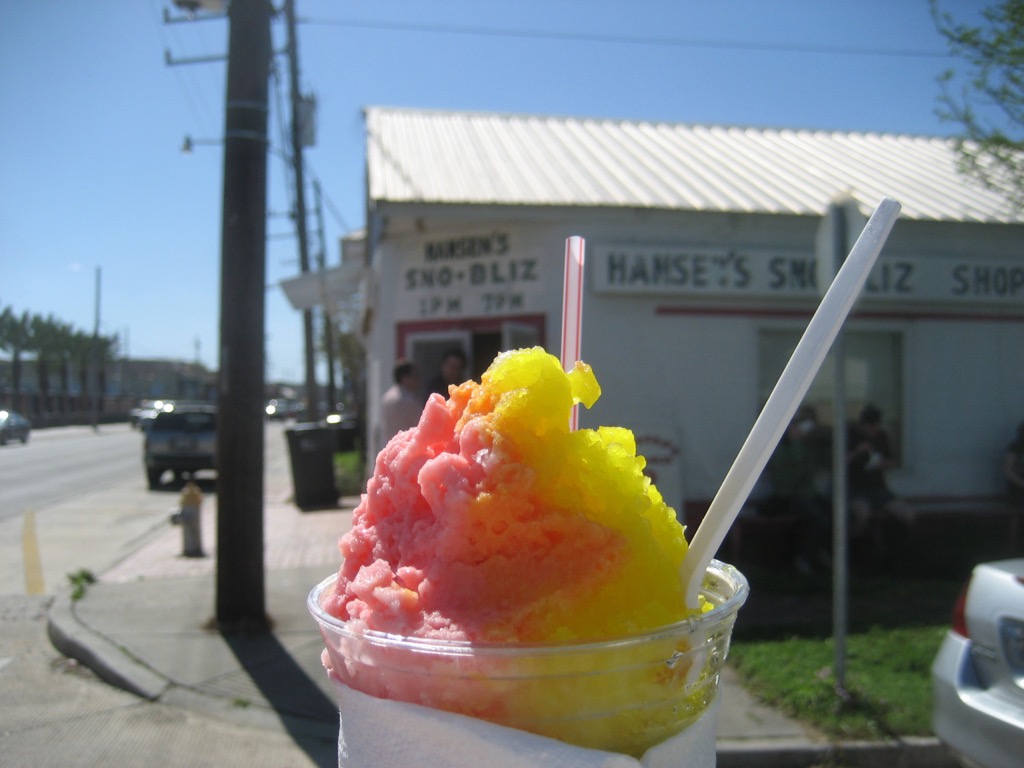 Summer is dying. It tasted so good while it lasted.


Not a sno-cone. Not a shave ice.

This is a New Orleans sno-ball.

This is summer in New Orleans.

From Wikipedia:


A sno-ball is a New Orleans confection made with finely shaved ice and flavored cane sugar syrup. Commonly confused with the snow cone, the ice of a sno-ball is fine and fluffy; while a snow cone's ice is coarse, crunchy, and granular. Moreover, in a snow cone the flavored syrup sinks to the bottom of the cup; while in a sno-ball the ice absorbs the syrup.

Sno-balls are a seasonal treat as they are generally sold only from roughly March to October. They are vended from "sno-ball stands" throughout New Orleans and in other parts of Louisiana and Mississippi.

Before the 1930s ice was manually scraped from a block of ice, producing a coarser, crunchier version of the sno-ball. In 1933, Ernest Hansen began work on an ice-shaving machine; and by 1934, he had invented the first motor-driven ice-shaving machine. For two years, Hansen kept the machine within his family, making sno-balls for only his children and relatives. In 1936, Ernest and his wife Mary took their machine to the streets of New Orleans and opened Hansen's Sno-Bliz. The business ran discontinuously for the following two years because Mary needed to care for her children. In 1939, they opened the shop and remained in business for the next 67 years.


A bit more Hansen's Sno-Bliz history from
snobliz.com
:


Hansen's Sno-Bliz was first conceived during one typically hot New Orleans summer day during the Great Depression. Ernest Hansen and his older son were trying to cool off outside when a man pushing a snoball cart wheeled by. Ernest, although tempted by the frozen treat, disapproved of the lack of cleanliness of the operation as each snoball was shaved by hand from a large block of ice. Being a master machinist, he envisioned a machine that would hold and shave ice cleanly and safely. Ernest promptly set about building one, earning U.S. Patent 2515923.

His wife, Mary Hansen, a shrewd businesswoman and fantastic Italian cook, created her own line of syrups. In 1939 Hansen's Sno-Bliz began serving its first snoballs under a Chinaball tree on the sidewalk outside of Mary's mother's house on St. Ann Street. Back then, a snoball was 2 cents, an exorbitant price for the time, and was served in a little cardboard tray. After a short time on Valmont Street, they moved to Hansen's current location on Tchoupitoulas Street in 1944.


Hurricane Katrina shut down Hansen's Sno-Bliz in 2005, with Ernest and Mary then passing away of natural causes a few months later (aged 94 and 95 respectively). Granddaughter Ashley Hansen re-opened Hansen's Sno-Bliz in 2006. Hansen's Sno-Bliz is open today to serve you.

Officially honored in 2014 by the James Beard Foundation as an American Classic.

Hansen's Sno-Bliz is the sno-ball stand I know and love. It's my go-to sno-ball. 4801 Tchoupitoulas Street, at Bordeaux. Wish I was there right now.

Here is a sampling of Hansen's sno-ball flavors (current and occasional):
Anise Banana Blueberry Brown Pelican (cream of root beer) Bubble Gum Cardamon Cucumber Honey Lavender Pineapple with Cilantro Spearmint Watermelon Wild Cherry