April 28 2016 01:52 PM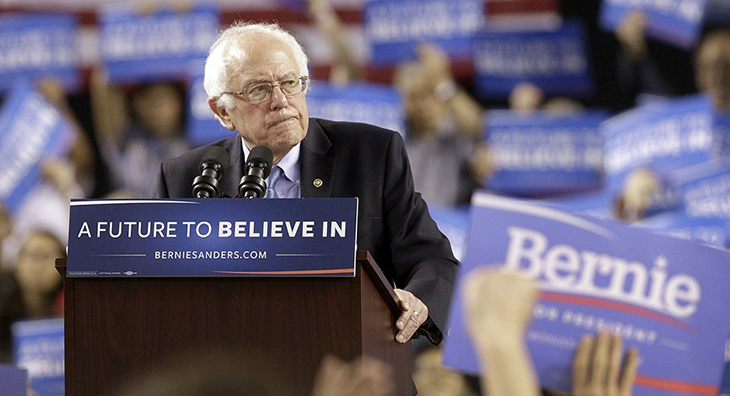 I will vote for Secretary Clinton in November. Not a problem. It won't be a vote cast with a great deal of enthusiasm but a vote is a vote and a Democratic victory is a Republican defeat and there you have it.
You're welcome.
That said, I'm still voting for Senator Sanders on June 7 here in California, and will do so enthusiastically.
I'm not seeing it as a 'lost cause' vote, at least not totally, not absolutely, even though it will be a vote cast in full awareness that Sanders will not be the Democratic Party nominee. It won't be an anti Clinton vote either, at least not intentionally. I mean for all of my votes to be positive, not negative.
A vote for Sanders in California will be a vote for a Sanders-ized Democratic Party platform (campaign finance reform, income equality and economic justice, national $15 minimum wage, single-payer health care, fracking ban, tuition-free college, carbon tax, etc), a vote for reforming the Democratic Party's primary process, and, equally important to me, a vote of confidence for Sanders to continue promoting his message of radical/revolutionary systemic change after the November election, to continue being a Progressive thorn in Clinton's side, to continue calling her out when she inevitably drifts back to the center and needs pushing toward true Progressivism. The Sanders campaign finally brought the Progressive wing of the Party back into the bright sunlight after years/decades of disregard and impotence. That's a win.
My personal allegiance to the Democratic Party has always been more anti Republican Party than staunchly pro Democratic Party because I've never (not since August 1968, that is) perceived the Democratic Party's vision to be perfectly in synch with my own. Simply put, the Democratic Party has long been too big and too welded to the status quo. The Democratic Party is The Establishment, it is part of the problem and not so very often an agent or instrument of a meaningful structural solution. Too big to change, too big to see past its own self-interests. The Sanders-Clinton divide has brought this into sharp relief. I sincerely hope that her inevitable victory in Philadelphia will not break apart and sweep aside what Senator Sanders and his supporters have showed is imaginable, possible, and necessary.
I'm not sure the Democratic Party deserved Bernie Sanders, his campaign, and his message this year but I sure hope he has the generosity to not give up on them, at least not yet.
Bernie Sanders was an imperfect national candidate and his campaign was equally flawed and misguided at some root levels, including his seeming inability to seriously try to connect with middle aged and older black Americans (not just in the South: look at the New York City primary vote
breakdown by race
), his refusal to admit he was wrong about guns and/or his inability to better frame/explain his gun stance, some excessive complaining about some election irregularities, and the silly reluctance to release his damned tax returns. Sadly, an imperfect messenger.
I'm really hoping he has inspired someone less flawed who will learn from his (Sanders') mistakes and carry on the good fight.
So in June I'm voting for a progressive future and a grain of confidence that the Democratic Party can make itself more hospitable to me and those like me. And then, in November, I will positively be voting to block the barbarian horde at the gate.
Democracy in action.