March 24 2016 06:33 PM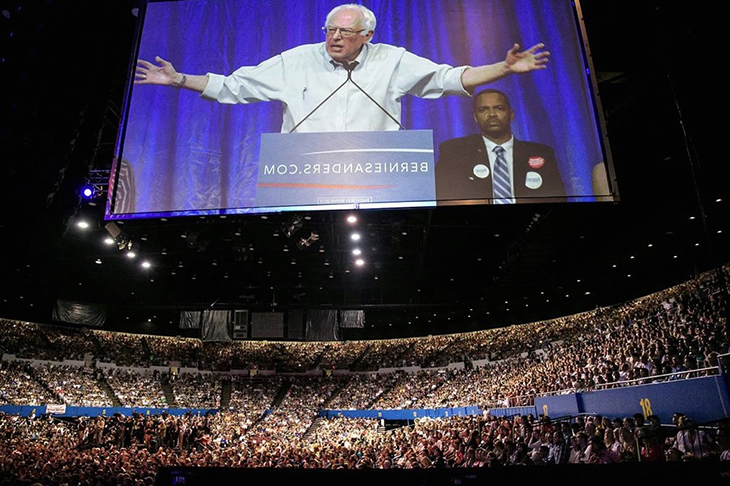 Bernie Sanders shouldn't still be in this race. Hillary Clinton should have squashed him like a bug by now, he should have been roadkill in February. A nobody Senator from a tiny state in the Northeast? An avowed Socialist? A lifelong Independent running inside the Democratic Party? No SuperPAC, no sugar daddies, no Trump wealth? A 74-year-old grumpy guy in a rumpled $74 suit? You'd think he couldn't keep pace in a potato sack race against Pee Wee Herman, much less a race for the U.S. Presidency against anyone named Clinton.
But he's still winning primaries and winning caucuses and winning delegates and he's still rolling in the campaign contribution dough, though not enough of any of the above to actually win the nomination, not even enough to simply prevent Clinton from getting her 2383 delegates prior to the convention.
And that's really troubling when you look ahead to Clinton being the Democrats' nominee in the fall. Honestly, she's simply not particularly good at this getting-elected stuff. In 2007 she (and her team, of course, a team put together by HER) miscalculated the Obama candidacy and then never figured out how to stop it, and now she can't put out the fire that is the Sanders campaign (not enough to burn her house down but enough to keep her smoke detector going off).
I don't doubt for a minute that Hillary Clinton is the brightest mind in any given room in which she happens to be, and I don't doubt for a second that she surrounds herself with the brightest and most loyal minds to be had, but jeeez this is ridiculous.
If anyone is upset because Bernie Sanders won't quit and is still hanging around, don't blame Bernie Sanders; blame Hillary Clinton and her team.
And I am going to be ROYALLY PISSED OFF if Hillary Clinton fucks up again this fall and loses, letting Donald Trump or Ted Cruz saunter into the Oval Office. Could happen.

The other thing I worry about in the fall is another Paris or another Brussels or another San Bernardino. If we get a major terrorist event in Europe or North America in October, it will only play in the favor of whoever the Republican candidate is and that candidate will play the Fear card until every American's head is ready to explode.


I don't think anyone should be expecting the hordes of young Sanders supporters to turn out for Secretary Clinton in November the way they're turning out for Sanders now, not because they are 'Bernie-or-Busters' but because the youth vote is historically soft and Clinton hasn't engaged them at all so far. If they didn't come out for her to begin with, why expect them to come out for her in the fall?

Senator Sanders can't wave a wand and make the kids go to the polls and vote for Clinton, nor should that be the Clinton campaign's gameplan. Clinton has to work for their votes, she has to earn their votes, not wait for Sanders to deliver them on a silver platter.


I have to admit that I didn't take Trump seriously when he first glided down that escalator last June. Like everyone else, I figured he would quickly fizzle and walk away. But by the time he held that rally in Mobile, when we were first getting the idea that there was nothing he could say that was so boneheaded or so evil that his supporters would flake off or run away, I wasn't counting him out. And today I'm not counting out the possibility that he will win the whole thing.

And I still don't understand any of it. I haven't read anything anywhere that begins to explain it. His success highlights the ineptitude of the Republican Party establishment and the media in serving as filtering agents to keep this kind of thing from happening in a democracy, sure, I see that, but there's got to be so much more to it.

This is like living in a comic book.


A big plus from Nixon's Presidency and especially his campaign's Southern Strategy: effectively defoliating the Democratic Party of its reactionary and uber conservative elements, leaving the Dems as the natural home for moderation, liberalism, progressivism, and the mixing thereof, thus rendering the Republican Party (which never had a true liberal wing, not even Nelson Rockefeller) as the natural locus for extremism and intolerance. That extremism and that intolerance are now eating the Republican Party alive, from the inside out.